ABRASIVES MARKET LEADER CELEBRATES 40TH ANNIVERSARY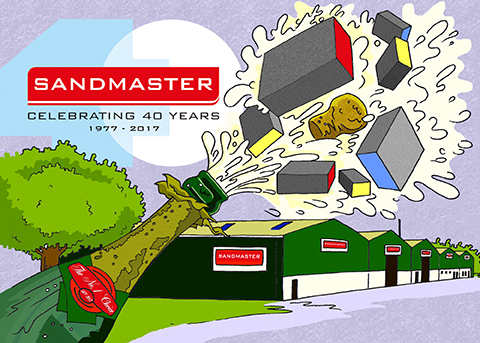 Sandmaster, the world's leading independent manufacturer of foam-based abrasives, celebrates its 40th anniversary this year.
From small beginnings, the company has developed its Stafford innovation and manufacturing facility to a position today where it leads the world's foam abrasive sector. It has achieved this through a combination of technical investment, reliability, consistency and quality.
A key factor in the company's success has been to ensure the diversity of the product sectors that it serves – including automotive, DIY, construction, electronic and cosmetic sectors.
Customers in all these sectors have benefited from Sandmaster's total commitment to customer service. The company has built its reputation on the ability to provide tailored bespoke options for all its customers. These can include on request coloured minerals and foams, different shapes and sizes and unique formulas, as well as screen and inkjet printing. Sandmaster has grown throughout its 40 years by working with its customers, meeting their needs on branding, packaging and product specification.
The fact that many of the company's employees have worked for the business for many years finds its reflection in the very high level of customer loyalty which Sandmaster enjoys. In view of the wide range of innovative high quality products which the company produces and its capabilities in terms of product availability and rapid customer delivery, strong customer retention is not surprising.
Whether it is sanding blocks, single-sided sanding pads, hi-flex sponge or hook and loop products, Sandmaster is today able to supply an abrasive product for every requirement. It is a product range which the company is able to bring to market, because of its high level of investment over many years in technical innovation and its manufacturing capability. The company today boasts two technical laboratories at its Stafford manufacturing site.
As managing director Bob Edge says: "What we have achieved over the last forty years has been nothing short of impressive. It has been made possible by the hard work and dedication of the whole team at Sandmaster, and also in particular by the loyalty and support of our customers. We have been very fortunate that our customer base comprises of businesses and individuals who don't just want to buy product from us, but who are always keen to engage with us, build partnerships and support what we are doing to contribute to our new product development and our technical innovation.
"Manufacturing is not always straightforward, and there are constantly new challenges, but looking back, we are delighted that our own hard work and investment continues to be met by the support of our own people, our customers and the industry as a whole. It is a time when everyone associated with Sandmaster can be proud of what has been achieved and can look forward with confidence to the coming years."